My Child Won't Eat Breakfast. What Should I do?

---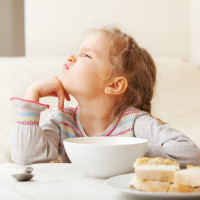 Sometime kids just aren't hungry when they're leaving for school really early in the morning. If they have a long bus ride, consider packing a meal to eat during the ride. Healthy whole wheat English muffin pizzas or half a sandwich are good options. You can also make a waffle sandwich with low fat Greek yogurt (won't ooze out), nuts, and fruit. Banana or apple slices with peanut butter or fruit smoothies are also good on the go. Granola bars are a popular choice for a mid-morning snack that kids can keep in their backpacks and eat when they become too hungry. (*Just check for nut content in granola bars and obey your school's nut-containing foods policy designed to protect allergic children.)
Remind your kids of the benefits of breakfast: higher energy, better test scores, and an energetic start to the day. Read more meal time tips.