Gluten Free Banana Walnut Oat Waffles

---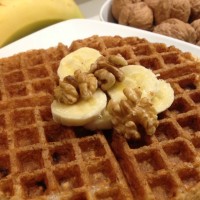 I love oats! They are one of my favorite whole grains. I blend gluten free whole oats in my food processor until they are flour consistency. The flour is so light and airy in waffles that it feels like I'm eating a refined dessert. Instead I'm getting all the benefits of vitamins, minerals, fiber and phytochemicals found in whole grains. Whole grains are associated with longevity and a lower risk of heart disease and several types of cancer. Instead of following the latest fad diet, choose to include whole grains and give ancient grains a try too!
Gluten Free Banana Walnut Oat Waffles
Ingredients:
2 cups oat flour
4 teaspoons of baking power
1/4 teaspoon of salt
1/3 teaspoon of cinnamon (optional)
2 eggs
1 banana, mashed (fresh or defrost a frozen banana)
1 3/4 cup of unsweetened coconut milk (you can use milk or unsweetened soy milk)
1/4 cup of walnut oil
1 teaspoon of vanilla extract
crushed or whole California walnuts (mix in batter or use as toppings)
maple syrup (pour in a small dish and dip your waffle)
Directions:
Mix all dry ingredients in a bowl.
Mix all wet ingredients in a separate bowl.
Mash a banana on a plate, then mix into wet ingredients.
Pour wet ingredients into dry ingredients and whisk until bubbly.
Makes about 6-8 waffles
Want to experiment with oats a bit more. Try my Best Ever Gluten Free Zucchini Muffins.