Easy Colorful Cruciferous Slaw

---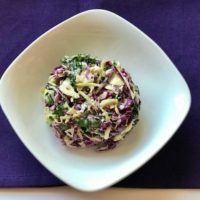 I love veggies slaws! They're a bi or tri-weekly dish in my home. They're so easy to make once you get the routine down its minutes. The best part is you get cancer-fighting health promoting tasty vegetables that add crunch and flavor to every meal.
Ingredients:
1 bag of prewash ready made chopped veggies, like broccoli slaw, organic cole slaw or my favorite, kale, cabbage and shaved Brussels sprouts slaw.
4-5 tablespoon of plain Greek Yogurt
2 tablespoon Mayonnaise, I prefer vegan mayo from Trader Joes
1 teaspoon of white balsamic vinegar
1 teaspoon of honey
1 dash each of chili lime and smoked paprika
1 teaspoon of spicy brown or yellow mustard (optional)
Directions:
Mix together Greek yogurt, mayonnaise, vinegar, honey and spices in a large bowl. You can use any herb/spice combination you like! Experiment.
 Add the veggie slaw mixture.
Mix and toss with 2 large spoons until evenly moist.
Eat and enjoy!