Too Tired to Cook? A Quick Meatless Meal

---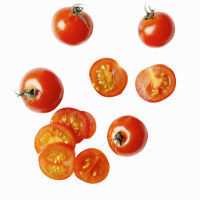 Here's a quick meal that is tasty, high in fiber and pretty much ready- made.
Chop 3-5 plum tomatoes
Enjoy Sweet Potatoes

Frozen sweet potato fries, check the ingredient list for unnecessary ingredients like hydrogenated oils or sugar
Or use Trader Joe's fresh baked sweet potato "fries" in the refrigerator section
Or scrub and bake your own in the microwave then dip in low fat sour cream and Cajun spice mix. Keep smaller sweet potatoes on hand –they cook quickly.

Open a can or two of low or reduced sodium lentil soup, add 1 chopped tomato, shake in some of Trader Joe's 21 herb salute and heat. Lentil soup is jammed pack with fiber and can easily meet close to half of your daily fiber needs.
Add the remaining chopped plum tomatoes, to a few tablespoons of tomato brushetta (comes in a glass jar) and a few tablespoons of low fat shredded mozzarella on top of organic corn tortillas. Place in toaster oven for 3 minutes.
Eat and Enjoy!