Sweet Cool Treats I Love to Eat!

---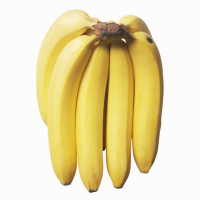 I love vanilla bean ice cream. The kind with just a few real ingredients I can recognize as foods. My favorite is reduced fat Breyers vanilla bean but I can't keep in the house that often, because I'll want to eat it too much!  So this is my favorite substitute that my family often enjoys.
Orange Creamsicle Delight:
1 cup of store bought or fresh squeezed orange juice
½ cup Breyers vanilla bean reduced fat ice cream
Mix ice cream with a spoon into juice
Enjoy the little floats of unmelted sweet ice cream with the tangy and sweet flavored juice
Frothy Banana Shakes:
1 to 1 ½ cup of organic soy milk (for soy, I recommend organic)
1 ½ to 2 frozen bananas (I peel and break bananas into 3 sections just before they get too ripe, then stock them in a gallon size zip-lock bag in the freezer)
1 tsp Tahitian vanilla extract
½ tsp cinnamon
Dash of nutmeg
Blend until smooth –serve in a big glass mug! So delicious
Pomegrante Orange Pops:
Mix equal portions of pomegranate juice and orange juice into popsicle molds or Dixie cups.
Over the years we've ended up with popsicle tops without the molds. So we use the popsicle tops to place in the Dixie cups to get a bigger 4 to 6 oz portion popsicle.
I usually buy Langers Pomegrante juice because it's reasonably priced and we like the taste.
Grape Juice with Lemon Zest Purple Slushes:
Grind up lemon peel after removing as much as the rind as you can.
Pour grape juice, Welch's or an organic brand you prefer, into 6 oz Dixie cups.
I like to let them thaw, either in the sun for 10 minutes or very briefly in the microwave for a nice slushy treat.
Make sure these are enjoyed outside with a cloth napkin in your children's old t-shirts. Grape juice pops can stain but they are so worth it!  These are such a hit with kids and parents. I've offered these at parties, play dates and as after school treats.
Guilt Free and Loving it!
Each one of the sweet treats offers a ton of health benefits for your kids and family so eat and enjoy!  Try these great watermelon pops!