Popcorn Croutons

---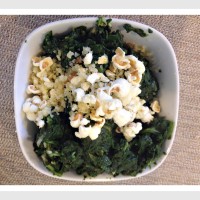 My daughter loves experimenting with different flavors and ingredients in the kitchen. She especially loves herbs and spices. This began in preschool when I let her pick a few spices for our home made sweet potato fries and her surprising use of cardamon was a big hit.  This month she has been experimenting with popcorn.  We call this recipe popcorn croutons because it tastes great on top of salads, tomato soup or a variety of cooked veggies such as chopped spinach marinated with garlic or shredded zucchini.
Ingredients:
1/2 cup of popcorn kernels
1/4 cup of Olive oil
1 cup Parmesan minus 1 Tablespoon
1 Tablespoon freshly grated Asiago
1/2 teaspoon lemon pepper
 1/2  less teaspoon salt
Directions:
Air pop 1/2 popcorn in air popper, stove top or microwave
Using two large utensils drizzle olive oil and toss to evenly distribute
Repeat distribution process for Parmesan, Asiago, lemon pepper and salt
You can also add an herb/spice blend mix for an additional flavor boost. Enjoy popcorn alone or as a veggie, salad or soup topper.