Left Over Easy Artichoke Salad

---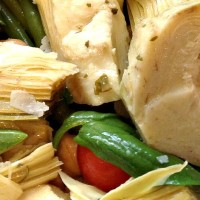 Being a busy working mom I often put together lunch quickly! I try to include artichokes in my weekly diet because of their prebiotic benefits – important for gut health. Here's a simple salad I've really enjoyed using fresh basil and cherry tomatoes from my garden.
Ingredients:
Left over string beans cooked in garlic and soy sauce
Rinsed Garbanzo beans
Lightly rinsed marinated artichoke hearts (rinsing cuts down on excess oil, but keeps flavor)
Cherry tomatoes
Fresh Basil
Shaved Parmesan
Optional: Pine nuts
Directions:
Place green beans in the bottom of a bowl.
Add rinsed artichokes and Garbanzo beans.
Wash tomatoes and basil then place as colorful accents.
Sprinkle shaved Parmesan.
Add Pine nuts.