Are You Ensuring Your Family's Health?

---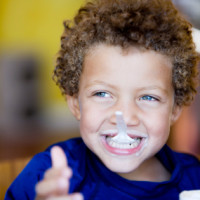 Yesterday's New York Times article reported some interesting information on the health effects of the family's nutritional gatekeeper. A nutritional gatekeeper prepares the family's food and also influences their food choices made outside the home. (Could this be YOU?) These gatekeepers need to be aware of the nutritional quality of the meal, for the sake of their family's health. Either poor eating habits or healthy eating habits could be passed along. The best solution is to empower the gatekeeper with information on how improve the health of the people they care the most about.
The shift to home-cooking with this economy means that gatekeepers have more control over the meals than they would at a restaurant. Portions of home-cooked meals tend to be smaller, therefore less added sugar and fat. Still, if portion control isn't perfected, reading "Controlling Portions For You And Your Family" will get the family going in the right direction. (There's even tips for eating out) Go get 'em, Gatekeepers!