Tasty Passover Matzoh

---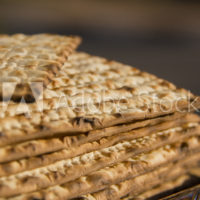 Creating food memories through family meals and traditions, culture and religion have important value.
Tonight is the first night of Passover. For the next seven (7) days, jews around the world replace bread with the unleavened version, called "matzoh."  Purchase the whole grain version and whip up this good source of protein and fiber matzoh-brei breakfast. It is delicious, and so easy to make. Here is a recipe that serves 4 people:
Ingredients:
Whole grain matzoh, 4 sheets
Eggs, 4 large
Onions, 1 small, diced
Olive oil, 1 Tbsp
Salt, ½ tsp
Pepper, ½ tsp
Directions:
Pour oil into large skillet and sauté onions till translucent.
Add salt and pepper.
Run warm water over matzoh and break into small pieces into a bowl.
Add eggs and mix with matzoh using a whisk.
Add mixture to skillet and cook and turn over with a spatula as you would cook eggs.
If you like your Matzah brei toastier, cook for longer.
Serve with jam.