Mango Kale Black Bean Quinoa Salad

---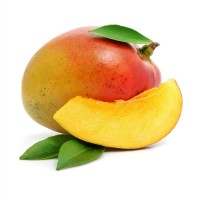 I made this one night knowing I'd be too busy to shop and cook for a party we were attending the next day. I just used ingredients on hand and it turned out to be delicious! It was a hit at the party -so it's now a favorite request.
Ingredients:
1 ½ bunch of kale leaves
½ cup of orange juice
1-2 Tbsp. of pistachio, walnut or olive oil
1 mango cut into small cubes
1/3 cup of pumpkin seeds
1 can of black beans
2 cups of cooked quinoa
1/3 cup purple onion
 2 tsp. of Bragg liquid amino acid (or soy sauce)
2 tsp. balsamic vinegar
Directions:
Soak kale in orange juice and oil over night in its own container.
Cook quinoa according to package.
Chop the mango and purple onion and set aside separately.
Rinse and drain the black beans.
While the quinoa is hot, mix in black beans, soy sauce, purple onion and balsamic vinegar. Let this mixture chill over night.
The next day mix all ingredients together, adding in mango last.
Makes 10 servings
Nutrition information per serving: 252 Calories; Total Fat 6g; Saturated Fat 1g; Monounsaturated Fat 3g; Polyunsaturated Fat 2g; Cholesterol 0; Sodium 185mg; Carbohydrate 40g; Fiber 7g; Protein 11g