Holiday Eating- Don't Forget Breakfast

---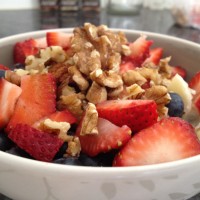 Holidays seem like they're always right around the corner. With festivities just about every month of the year, including Easter, Memorial day, summer barbeques, birthday parties, Thanksgiving feasts and Halloween candy, New Year's celebrations and Valentine's chocolates, holiday eating can take control of your waistline. Most of us have one thing on the mind for these festive days—those special holiday dishes!
With our thoughts on family feasts, it can be easy to forget about breakfast. It is the most important meal of the day—even on holidays!  Skipping breakfast can make you more likely to overeat later and feel grumpy too! Research has shown that eating breakfast can help minimize impulsive snacking later in the day, which can be an important part of a weight loss program.  So start the day off right with a breakfast high in fight-o-chemicals, protein, and fiber.  This will leave you feeling full and satisfied – not simply ravenous when the festivities and food begin. And don't think breakfast is just important on holidays – make it part of your day every day.  It will keep you feeling full through lunch and even help kids do better in school.
Here are some suggestions the whole family will love:
Whole wheat toast with 1-2 Tbsp of peanut butter and banana slices
Whole Oatmeal with 2 Tbsp of raisins or fresh fruit and low fat milk or organic soy milk
Whole grain cereal with berries and low fat milk –Learn how to choose a cereal
Nonfat or low fat yogurt with fresh fruit and whole grain cereal, nuts or raisins
Nonfat or low fat yogurt mixed with fresh fruit or frozen fruit and ice  in a blender for a yummy smoothie
Scrambled eggs on whole wheat toast and an apple
Trying to get all the food prepared and you have little ones running around? Check out our free printable coloring pages with the Super Crew that promote healthy colorful eating!