What Young Mom's and Dad's Need to Know About Colon Cancer Prevention

---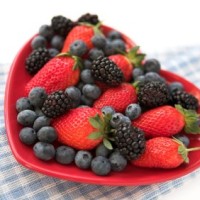 Just this past year, I have met 2 young women in my circle of friends with colon cancer. Colon and rectum cancer is the third leading cause of cancer in males and the fourth leading cause of cancer in females in the world. What can you do to help decrease your risk? 45 percent of colorectal cancer cases in the US are preventable. Here are some tips modified from the American Institute for Cancer Research:
Do what you can to stay at a healthy weight. The evidence is strong that carrying too much body fat raises the risk of colorectal cancer. Read more on weight tips.
Get active. Being active every day in any way, regardless of your weight can decrease your risk of colorectal cancer.

Aim for a minimum of 30 minutes of moderate physical activity daily. That can be two 15 minute walks with your dog, playing tag, or chasing after your young child on a big wheel or bike.
A total of one hour a day will help keep of additional pounds as you age or help maintain a successful weight loss.
Remember kids need to get 60 minutes of physical activity and play everyday! So get moving together as a family.

Boost your fiber foods. Foods containing fiber probably reduce the risk of colorectal cancer.
Be sure to pack in your fruits, vegetables, whole grains, nuts and beans.

Try adding Lentils –you'll be amazed at just how much fiber they pack in. One can of Amy's Organic Lentil Vegetable soup has 16 grams of fiber –you're half way there. Aim for 25 to 35 grams per day. Read more with where to find fiber.
Kids will usually give black bean and corn salsa a try.

Avoid, limit or cut back on alcoholic drinks. One drink daily for women; 2 for men. Start out with bubbly water or unsweetened ice tea before you head for the wine or beer.
Choose lean poultry or fish over red meat. Avoid processed meats. So moms –that means buy lunch meat or hot dogs without nitrates. 
Regular colon cancer screenings are key to early detection of colorectal cancers. Speak with your physician about this and other choices you can make that will reduce your risk.
Start today preventing colon cancer for you and all your loved ones!
Great resources for cancer prevention: