VICTORY! New Revisions to the National School Lunch Program

---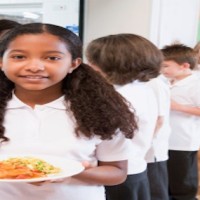 VICTORY! New Revisions to the School Lunch Program
As a public health enthusiast, it always catches my eye to see an article about legislative change to the School Lunch Program. On Tuesday, May 4th, the Council approved new school nutrition and exercise standards to Bill 18-564, the "Healthy Schools Act 2010" in the District of Columbia. The new legislation states that public and charter schools in D.C are required to add more fresh fruits, vegetables and whole grains to the lunch meals. The bill also promotes the participating schools buy produce from organic farms and adds thousands of students to the free-lunch program. In addition, the bill will triple the amount of time students have to spend participating in physical activity.
This is all well and good, but in a plea to efficiently pass the legislation in D.C., federal officials convinced members to remove a key provision of the "Healthy Schools Act" legislation before they voted on it. Council members removed the proposal for calorie limits for school lunches and breakfasts, a sign that there is continued conflict among health professionals over how to address childhood obesity and school nutrition. Though the calorie limit revisions to lower total calories was taken out, council members emphasized that the new School Lunch Program bill revisions are the most progressive legislation in the union regarding school nutrition. The legislation is set to be implemented in D.C. this fall. To learn more about Bill 18-564 and the "Healthy Schools Act 2010", please visit Council Member Mary Cheh's website.
On a national level, President Obama and First Lady Michelle Obama have both stated their support for fighting childhood obesity and hunger. In addition, the majority of House members stand behind increased funding for Child Nutrition Programs by expressing their support for reauthorizing the Child Nutrition Programs. Council members have come together to write the Healthy CHOICES Act, a comprehensive obesity bill with key elements similar to that of the "Healthy School Act 2010" in D.C.
Additionally, on March 24, the Senate Agriculture Committee passed the Healthy, Hunger-Free Kids Act of 2010. The Healthy, Hunger-Free Kids Act of 2010 invests billions in updating national nutrition standards for all foods sold in schools; stronger school wellness policies; increased meal reimbursements; funding child nutrition research; and establishing professional standards for school nutrition directors. Though the bill is headed to the Senate, reaching the Senate floor has been a slow road and the bill may not make its scheduled September 30th timeline. The Senate Agriculture Committee Chairman and Ranking Member are asking the Senate to prioritize the bill and are asking for the public's support for getting the Child Nutrition Reauthorization done before September 30th.
What does this mean for you?
Kids: At this time, the revisions require all schools in D.C. to:
 Serve free breakfast, whole grains, a different fruit and vegetable every day, and a choice of only low-fat or nonfat milk
 Eliminate trans fats
 Limit sodium and saturated fats
Parents: It looks like you have won an important battle, but more support for healthier School Lunch Program and needed funding remains! Childhood obesity is still going strong and it's going to take a lot of parents taking action at home and in schools. Find out what your School Lunch Program has to offer and ways you can help improve the program by visiting your local council member's home page and searching for the School Lunch Program.
 Play an active role in your child's health at home and at school
 Communicate your wish for healthy school lunches and work with your local Food Service Director and School Wellness Committee to support positive changes
 Write to your Council Member and tell them how you feel
 Ask how you can get involved
Teachers: Many studies show the effects of nutrition on test scores.
 Help your children learn by including nutrition education into everyday lesson plans.
 Encourage your students to make healthy choices in the classroom and the lunchroom.
 Be a role model for good health, by eating healthy, choosing healthy beverages, and not smoking.