Top 5 Tips to Raise a Healthy Family

---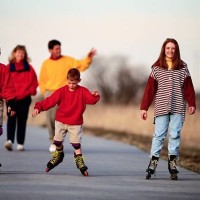 Here are 5 important lifestyle behaviors that nutrition expert, Chris McCullum-Gomez, PhD, RD shared with us on raising a healthy family:
1.  Eating meals as a family
2.  Limiting television viewing
3.  Getting adequate sleep.
I can tell you that the last of these lifestyle behaviors – that is, getting adequate sleep – has been the hardest one to adopt personally. This was especially true during the twins' first six months of life, when I was breastfeeding both babies. At this point in time, it seemed as if my life revolved around breastfeeding (and pumping breast milk)! The way I dealt with the sleep deprivation was to rely on family, neighbors, and friends for assistance in performing everyday tasks such as cooking. For tips on planning ahead before the baby comes see Eating Basics for New Parents to Be
For example, a neighbor prepared us a home cooked meal shortly after we came home from the hospital.
In another instance, a friend showed up with vegetable lasagna so I could have the night off from cooking.
Two other healthful lifestyle behaviors we have adopted as a family include:
4.    engaging in an active lifestyle            
5.    and staying connected to nature.
According to the National Wildlife Federation, research shows that families connected to nature raise healthier children and inspire a life-long appreciation of the environment.
Read our full interview with Chris on organic and local foods.
Find out how gardening can help your kids connect with nature with joe gardener.