So Good for you Fungus!

---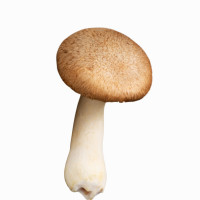 Whether it's cremini, portabella, morel, or shitake that tickles your fancy makes no difference; all mushrooms have fantastic nutrients that your body needs for everyday function!  If you've never liked mushrooms, try opening your mind and your taste buds and give them another chance.
You would hope that by knowing how nutritionally beneficial consuming mushrooms are for our health, more people would be inclined to eat them.  After all, funghi have little calories and fat, are a fantastic source of B vitamins such as riboflavin, niacin, and pantothenic acid, and have essential minerals like selenium, copper, and potassium.
B vitamins are essential for our metabolism, keep our skin and hair healthy, strengthen our immune and nervous system, help with cell growth and division, and even reduce the risk of some cancers!  Selenium is essential for the activity of antioxidant enzymes, copper is a required mineral for important enzymes, and potassium is an electrolyte that is used in regulating energy production with sodium.
With so much to offer, how could anyone NOT want to eat mushrooms??  Thanks to a fantastic vegetarian bolognaise recipe that requires 5 ounces of an assortment of mushrooms to be food processed into teeny tiny itty bitty pieces, those of us who don't care for mushrooms can now enjoy the fantastic nutrients they have to offer!
Additional "you wouldn't even know mushrooms are in the meal" ideas include:
Whole wheat pizza loaded with thinly sliced cremini or portabello mushrooms, shredded reduced-fat mozzarella cheese, grated Parmigian-Reggiano, fresh basil leaves, low-fat turkey sausage, and anything else you can think of!
Quinoa risotto with chopped shiitake and cremini mushrooms, onion, garlic, fresh thyme, white wine and grated Parmesean cheese.
Reinventing your favorite turkey meatloaf with diced button mushrooms, minced shallots, chopped Italian parsley, fresh thyme, salt, and pepper.
Not sure how to wash mushrooms? Gently rinse using your fingers, a wet paper towel or mushroom brush.
Visit SuperKidsNutrition.com Meal Time Tips and Quick Healthy Eats on facebook for more healthy and yummy food ideas!