Shockingly Easy Ways to Get Fit

---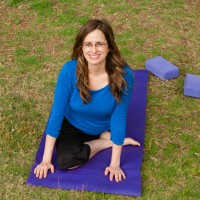 The Center for Disease Control (CDC) experts urge all Americans to exercise for 30 minutes of moderate physical activity most days.  Make 30 minutes fly by with these fun ways to play and move with your family, by yourself or with a child. It's time to lose those inhibitions and dance around like nobody cares.
Make mopping your microphone –"yes, you know you want sing and move those hips like Elvis!" The bonus is the sparkly floor after having all that fun.
Take out those 60's, 70's, or 80's tunes. Twist and shout your way to good health. Did I hear KC and the Sunshine Band…get your funk on! Put your hair up in an 80's scrunchie, and shake that pony tail around while kicking it out Jane Fonda Style.
Race with your kids in the yard or at the park. Race around all the trees. Come up with creative names for "crazy races," zigzag, serpentine, race backwards, hip-hop-kick-spin and run! Make it fun; give the neighbors or on-lookers something to talk about.
Think back to your childhood outdoor games: half-ball, wall-ball, freeze-tag, kick- ball, baby in the air …..rediscover them. By the way you don't need kids for this, just some good friends with a sense of humor.
Play tag –hop scotch or jump rope together add some music and call it a party.
Have a Dance-off while you're cleaning the dishes! 30 minutes will fly by in no time at all.
Need to get your squats done? Clean the kitchen or bathroom floor squatting while hobbling around. Remember to keep good form and if your knees start hurting, stop.
Instead of dinner and a movie date-night, why not get an afternoon babysitter and go for a hike, walk, or bike ride with your partner.
Going for a walk with your kids?  Make it an adventure! You can go anywhere you want with your imagination…..an enchanted forest, the dessert or a sea voyage. You can also pretend you're in pursuit of some pirates or any other "bad guys" so at times you may have to sprint..…hmmm great way to get in more exercise.
For more fitness and health tips see Keep Moving for You and Your Children.