Hydration 101 for Young Athletes

---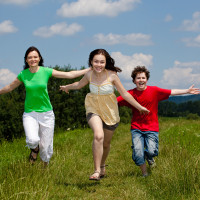 School is almost out for the summer, which means more time for the kids to play! Whether it's soccer or baseball, swimming or gymnastics, your young althetes are getting physical. When they are getting physical, they are getting HOT too. Unfortunately, they are not as good as adults when it comes to cooling down their bodies by sweating. Dehydration then becomes an issue and that's where good ole' H20 comes to the rescue. 
Encourage your child to drink water before, during, and after activity. All at once is not as good (or as easy) as slow and steady, which will win this water race. 
Go green and invest in a cute BPA-free water bottle like
SIGG
. Maybe let them pick out their design too, so they are more excited about using it!
During the game, aim for about 4 ounces (or 4 big gulps) of water every 15-20 minutes. After the game, have your child continue to drink water, while you look for signs of mild dehydration, which include: 
 

increased thirst

 

dry mouth and tongue

decreased urine output

normal to increased heart rate and pulses, normal to fast breathing

cool extremities

 
What's your child's hydration "GOOOOOAAAAALLLLLL"??
Age Range
Adequate Daily Intake of Beverages
9-13 years
8 cups for boys
14-18 years
11 cups for boys