Hello MyPlate Goodbye Pyramid!

---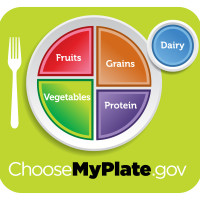 Goodbye Pyramid, hello MyPlate: https://www.choosemyplate.gov/
My plate icon is a plate split into four sections, each representing a different type of food (protein, whole grains, fruits and vegetables). The sections vary in size depending on the recommended portion of each food a person should eat.
Although I love my daily doses of organic yogurt (!)… I think this gives the impression we need dairy at every meal and we don't! As new research evolves to show the protective effect of plant based foods on bone health because it lowers the pH of our blood, maybe this will image will evolve. In the mean time they got it mostly right, consider where many people are starting. Also if you're looking for nuts and seeds, it's listed under protein instead of fat. Half of my calories at breakfast came from walnuts this morning -but technically most came from the fat not protein in the nuts. However, I can see why they put them in the protein category-to avoid lumping nuts and seeds with too much refined oils.
Key Points to Take from My Plate:
Balancing Calories
Enjoy your food, but eat less.
Avoid oversized portions.
Foods to Increase
Make half your plate fruits and vegetables. Vary your colors!
Make at least half your grains whole grains. SuperKids Nutrition says, "Start with the goal of at least half –then set small changes towards choosing whole grains every day!"
Switch to fat-free or low-fat (1%) milk.
Foods to Reduce
Compare sodium in foods like soup, bread, and frozen meals ― and choose the foods with lower numbers.
Drink water instead of sugary drinks
Remember small changes add up to a healthier you! Gain insightful steps on how to achieve your best-fit life with interviews from the experts: https://www.superkidsnutrition.com/nutrition-articles/health-expert-interviews/